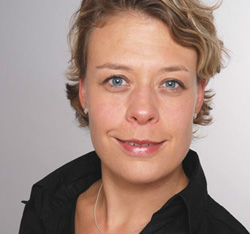 Katja Fuchs
• born 09.01.1976 in Alzenau / Germany
• Diploma of Social Work
• extended stays in Sydney / Australia
• experiments with colours and shapes since 1995

Artistic focus:
Abstract painting with acrylic colours, pigments, gold and materials like sand and plaster
My art
Very often I like to use intensive colours. They can have a strong impact on the observer /beholder and can touch him deeply. The abstract contents of the paintings leave enough space for own thoughts, associations and feelings.
My paintings can be seen as "colour-spaces" . The observer can stay as long and often in them as he likes. They tend to have a mediative character and invite to plunge in. Many ideas for the paintings originated during my travels. Every visitor can start his own journey and can feel free to follow his own emotions and thoughts.
I´m wishing you a joyful contemplation!
Your Katja Fuchs